What is Chalk Paint®?
We proudly stock all colors of the Annie Sloan Chalk Paint® in quarts and project pots, soft waxes, and brushes! We also teach workshops on how to create endless techniques and possibilities using Annie Sloan Chalk Paint®. We welcome you in to play at our paint bar, open during all business hours, where you can experience the paint-hands on, create your own colors by mixing and have a little fun!
While your in be sure to check out all the lovely furniture finished with with Chalk Paint®.


Not sure where to start? Check out our kits designed to have everything you need to get started on your project!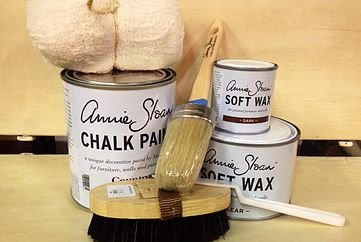 Annie Sloan has been in the Chalk Paint® business for over 25 years! She has perfected the Chalk Paint® and waxes. This paint can be used on wood, metal, fabric! You can use it to paint, stain, and even dye fabric. The possibilities are endless. Annie Sloan believes in small business and feels like we do about customer service! It must be superior in order for you to suceed with your project-and in order for us to suceed as a small business. Each of our employees is trained on the products we sell-in fact, they love it as much as we do and showcase many pieces of furniture in their homes that they have finished with the Chalk Paint®


Our favorite part of using Chalk Paint® is the prep work is minimal. The majority of the time no sanding or priming is necessary! Yes- you read that right! This is such a time saver and allows you to jump in and get started on your project!
What is Milk Paint?
CLICK TO LEARN MORE

We choose to carry Miss Mustard Seed Milk Paint because it is so different than Chalk Paint

®




Milk Paint is an ancient paint containing just five simple ingredients – milk protein (casein), limestone, clay, chalk and natural & non-toxic synthetic pigments. When absorbed into the surface, Milk Paint will never chip or peel when applied to a raw wood surface. It is suitable for both interior and exterior applications and is naturally mold resistant. Milk paint provides a completely breathable coating and is ideal for painting wood, plaster, drywall and a variety of other surfaces. It is environmentally friendly, non-toxic and contains no VOCs.
With the Milk Paint Bonding Agent you can use Milk Paint on even more surfaces such as previously painted walls, varnished surfaces, ceramic tiles, metal, glass etc. Without the bonding agent, Milk Paint will resist some pre-finished or pre-painted surfaces to achieve an authentic "chippy" look.

We choose Miss Mustard Seed Milk Paint as a compliment to the Chalk Paint®. They have a different look and feel. We love to stain with the Milk Paint on raw wood. We also like the thinness of the paint. Brush strokes disappear giving a smooth look which often lets the wood grain show through. It is predicable with the bonding agent but when used without that is when the fun of it being a bit unpredictable begins! Cracking, chipping vintage charm is the result.

We especially love the Hemp Oil she carries. It leaves a natural feel to the paint, and cleans up wood and metal.